SheZai watched 'Borat' yeterday. Slapstick comedy.. really. Character-infused Borat is so original and look out for that addictive accent. Laugh-out loud ..... and then forgettable.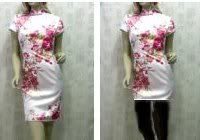 Peep-watch Update: Tight Cheongsam dresses are giving Kimono-like-top-wearing chicks a run for their skinny arses. It'll be shorter and butt-hugging ala left pic. And i envisage these littering the streets sometime soon. But worn with leggings???? a no-no. well. you decide.
Yes, the house is so clean you can lick a jelly off the kitchen floor. I am proud of myself, sprucing up the state of the house and all while my parents are away. Doing almost 20 batches of laundry in 1 week till the clothes made a mountain heap in my living room. Phique called me laundry-obsessive-paranoid-android sister. Almost grew biceps
turun angkat gala baju
. haha! Bought roach trappers shaped like a house, ants baits and cockroach baits and scattered them all around the kitchen. It works! Stick around and i'll show you what lurks in your kitchen at night.
Bought JIF and scrubbed every single speck of dirt. Then... it struck me like an oily frying pan on my head when Hon mentioned," oh.. you'll have more to come in the future."
errr... yarrrr......... The Dawn of the Wife-To-Be.