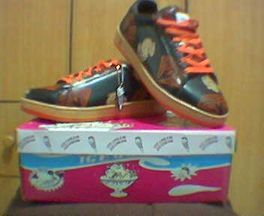 Drop It Like Its Hot Baby.. haha
Oh wow since when I last blog? Anyways got these new babies thru a colleague of mine. So thank you yea dude for the ';D price haha! Btw life has been great. I really need to do somethin to my weight! Always wanna do the early morning jog everyday day but the mind always says tomorrow. Reservist coming up on the 27th! 2 wks of no Nike but I'll be a soldier once again! Hope those pants n shirts better fit me cos me size is in the middle of xl - xxl for nike liao! hong kan liao.. Oh yea..here comes again all the hokien languages! till then.. gotta meet hun soon.. !
Fergie (BEP) or Angelina Jolie?
I still favour Paris.. ahhaha ':P