For Her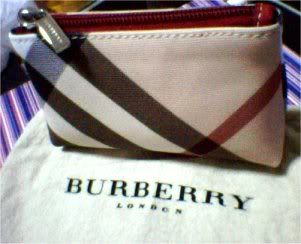 Burberry exclusive purse
For Him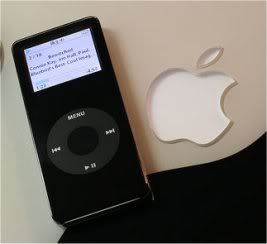 Ipod Nano
It has been a very suprising few days lately especially when Shezai is reaching their 5 year anny! The week started very well. Watched 'V For Vendetta'. A very good movie I must say. Oh yea, on the same day, we also bought a DVD ( Wicker Park) & a VCD (Sepet) too. Haven't watch the latter but Wicker Park is a very interesting show. Bought myself also Nike 2006 bible (Jpn edition). Ouh, Btw I'm starting to read! No, not those story book ala Harry Potter or stuffs but instead I'm in love with reading Biography. Actually my first was David Beckham's, My Side, followed by Paris Hilton's, Confession Of A Heiress & now the latest, Gazza's, My Story.
Yesterday was a very shocking but yet also very suprising day which left me felt awed all the way! haha yea, Hun actually surprised me an Ipod Nano! Weee!!!! I LOikE!!
As for today, Its my turn to suprise her. Haha, Yes I certainly caught her by surprise in the train! I simply purposedly showed my laziness in front of her & asked her to pack my bag for me & also took out The New Paper for me. Haha, actually I made her fold 2 of my tops before she took out a black paper bag. I asked her, what's that? She opened up & Wooops! It's a Burberry purse! hehe An exclusive one indeed from DFS Burberry At Air Port. Yeay!
Now, let me fiddle with my new toy.. till then!